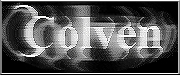 WELCOME
Here I am. Soft and chewy. Without a doubt, I am Colven. And when you see a tall dark figure walking towards you in an over-crowded Mejiers, downtown... you'll know who you're looking at :) .

This site is here for your enjoyment... and mine, sometimes. But don't get too picky about this site, just yet. It's still in the development stages.
README [09/11/99]

You can now download MASM v6.13 directly from this site. Also download the MS Platform Library for MASM. I have no idea what version it is, but that's okay.
SEMI-AFFILIATED SITES